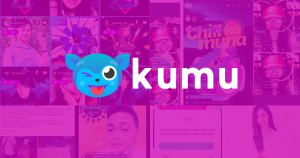 MANILA, PHILIPPINES – There are plenty of ways people can now earn money on the internet. From selling products online to blogging or vlogging, the information superhighway has opened many doors of opportunity for the tech-savvy. In the country, social media platform kumu allows its users to live stream original content, gain followers, collect virtual gifts, join games, and earn some cash in more fun ways! For these kumu Cash-Out Challenge winners who hail from all over the country, being creative, engaging in the app's many features, and making a profit is as simple as logging on to kumu and having fun!
Gregorio Eder, 28, Mindanao, @greggyofficial
Like the many Pinoys who have discovered the versatility that kumu offers its users, shy Gregorio was at first reluctant to try live streaming as a gig, but eventually found out the app's potential for profit. "I really like kumu simply because aside from enjoying its many features, you can also earn from it," he shared. Soon, Gregorio found himself part of the Kumuzen community on and offline. "I was able to attend the KUMUSIKAT celebration at Starmall Alabang where I met so many members and the kumu team," he added.
For a breadwinner like Gregorio (who said that the money he earns from his kumu live streaming enables him to pay off utility bills, vitamins for his parents, and even buy appliances for the home), experiencing the support of his kumu family allows him to overcome his shyness and showcase his talents online. "Like the app, kumu is a community of kind, supportive and beautiful people," he said and we couldn't agree more.
Ian Baloc Magdadaro, 28, Bukidnon, @myman
For school teacher Ian, chancing upon a kumu ad on YouTube may be one of the best things he ever discovered online. After exploring the app, he soon immersed on kumu's live game shows and tested his knowledge bank to win some cash.
"Joining kumu's live game shows helps a lot in developing my mental abilities, mental quickness, and critical thinking skills, which are key elements that play a very vital role in my teaching profession," said Ian who also wishes to use the platform someday as a means to teach more students online. Somehow, finding kumu as a safe space to connect with more people has given Ian his daily dose of positive vibes and big chances of winning.  "For me, kumu is a life-changing app and I would definitely share it with my friends to make their own lives easier," he concluded.
Jane Ara Tan, 28, Antipolo, @imnotyourjane
One good tip when you first join kumu is to come up with a catchy user ID for better recall among your followers. Such is what Jane did when she discovered the app via Facebook. With an ID like @imnotyourjane, most would quickly want to know the reasons behind the moniker (or in this case anti-moniker), as it presents a certain mystery that's worthy of a conversation. "I livestream and sing on kumu," she shares while also mentioning how she enjoys being her quirky self and meeting new people on the platform.
But Jane would really prefer to take the more profitable road of bringing her followers entertainment and joining interactive game shows more than anything else while on the app.
Mark Jason Antiporda, 21, Ilocos Sur, @tsubibo
Mark started earning money on kumu from the app by joining game shows like Quiz Mo Ko. "The game pressured me yet it was so much fun and I was able to answer all the questions correctly by guessing," he admitted. "Right after the game, I went to my kumu wallet and boom! My prize was automatically credited," he said quite contentedly.
For some newbies who might think that kumu is too good to be true, take it from Mark who, though was a bit skeptical about the app at first, came to realize that there are plenty of ways to cash-out via the app. "I don't do my own stream so I just co-host instead. Aside from the game shows, this is another way I earn money from kumu," he added.
May C. Deseo, 45, Calabarzon, @kamikazeee311
Having downloaded the app last year, May has definitely come a long way from being a newbie to getting the most out of the kumu and its many features. On top of her cash-out stories on kumu is joining the live game shows including May Tama Ka, Munchtime, Quiz Mo Ko, Beki Quiz, and Pera O Bayong, among many others.
"I literally earned money from joining the game shows almost everyday during the lunch break at work where me and my workmates are always excited to play and are waiting for the games to start," she shared excitedly. "Real cash and cashing out is as easy as 1-2-3 and there's always a game show happening on kumu," she added.
May also does some live streaming where she invites other users to visit, stay, and join in her chill streams and have a chit chat about anything under the sun. "As long as it is for the good of everyone, all are invited. kumu always gives me goosebumps in how sharing stories can make us feel better and lets us become someone who can help others that are in seclusion behind the screen simply by enlightening them and bringing them closer to the world again," she explained like the kind-hearted Kumuzen that she is.
Nolan Sulongsawa, 37, Quezon Province, @ginoongnolans
For social media vlogger Nolan, getting onboard the kumu live streaming bandwagon and earning some cash is a piece of cake. However, Nolan soon discovered how he can cash-out more dough by joining the app's many interactive game shows.
"From the very beginning, I won money from the game shows that I played," said Nolan. "It's really interesting, entertaining and we get more knowledge from the trivia questions," he added, proving that learning something new everyday on kumu is also a regular aside from earning and engaging in fun social interactions.
Like Nolan who also ventured into livestreaming on kumu by showing off his skills and talents, Kumuzens can  also explore so much more on the app and reciprocate the blessing of virtual gifts to others. "Until now, I'm still using the app not only to play the  game shows, but to meet new people and to make friends as well," he further shared.
Cash out on kumu now!
If you haven't downloaded the app yet, you're really missing out on how easy it is to earn money and enjoy kumu's 24/7 online features. Local Kumuzens can simply transfer their earnings via online banking, GCash, Coins.ph, or pick them up in their nearest LBC outlets.
International users can also get in on the action by receiving earnings through their Paypal accounts (with Paypal's actual charge), which they can then spend or transfer to their respective international bank accounts or e-wallet.
kumu is a powerful social media platform that brings the voices of Filipinos from all over the globe at the forefront. Aside from presenting users real-time earning opportunities as a live streamer, chances to win cash in various game shows, and engagement in campaigns, kumu also fosters communities that ignite relevant discussions among Filipinos.
Be part of the Kumunity now and download the app for free at Google Play or the App Store.
Original post on Adobo Magazine October 2, 2020 — https://www.adobomagazine.com/digital-news/digital-six-live-streamers-tell-how-theyve-created-on-kumu-how-fun-and-profitable-being-a-kumuzen-can-be/