MANILA, PHILIPPINES – One of the largest talent events in the country is about to kick-off, and it's all happening at the palm of your hand!
PPL Entertainment's "Ultimate Star" talent search is made possible in partnership with kumu, the Pinoy-lead livestreaming app. The talent search, which started last August 22nd, has since been an amazing opportunity for aspiring stars to showcase their talents on a national platform.
There may be no stage, no cameras, nor judges gathered in one venue, but this kumu-wide event is pushing boundaries for innovative talent searches, by hosting it virtually. No pandemic is stopping a true star from becoming the Ultimate Star.
"I cannot do (the "Ultimate Star" talent search) without the efforts and collaboration of kumu", said president and CEO of PPL Entertainment, Perry Lansigan (@PPLperry), as he elaborates how the partnership will help secure national coverage, while also ensuring that the winners are premium content providers.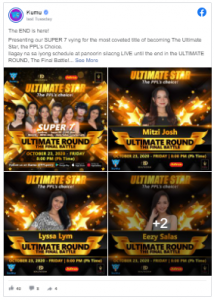 PPL Entertainment Inc has been handling the careers of famous artists in the industry. To date, Perry Lansigan has already launched one of the biggest shows in kumu, featuring 6 exceptional kumu stars, and famous celebrities like Jolina Magdangal (@jolinamagdangal), Gloc 9 (@glocdash9), Ogie Alcasid (@ogiealcasid), Martin Nievera (@martinnievera), Ivana Alawi (@ivana) and Regine Velasquez (@reginevelasquezalcasid). His first successful event, titled #showsomePPLLOVE Your Musical Experience, made some huge waves last August. Needless to say, there is already some hype for the upcoming "Ultimate Star" talent search.
"[kumu] is very accommodating to talents, like the ones I manage," says Lansigan. "Especially now during the pandemic, where my artists have limited exposure. The app kumu brings my artists to everyone, and closer to Filipinos worldwide."
The aspiring Ultimate Star went through the Second Auditions, Explore Page Round, Blue Check Round, and Bronze Badge Round before heading to The ULTIMATE ROUND, The Final Battle on October 23, Friday, 8PM, @PPLperry.
Amazing prizes await the chosen Ultimate Star! A cash prize of Php 100,000, plus Php100,000-worth of products from BeauteDerm Negosyo Package. The winner will also receive a kumu bronze badge and will become a premium featured creator with 600,000 kumu coins. The winner will also get a chance to be featured in MyxExclusives, along with Quiz Mo Ko guest hosting, and will be given a Social TV Spotlight slot. What's more, the winner gets an exclusive management contract with PPL Entertainment Inc.
Exciting prizes will also be awarded to the first, and second runner-ups of the Ultimate Star. A total of Php 80,000-worth of prizes will be awarded to the first runner-up, and Php 40,000-worth of prizes will be awarded for the second runner-up.
Stay tuned on kumu and see the journey of the next Ultimate Star! https://app.kumu.ph/pplperry
kumu is a powerful social media platform that brings the voices of Filipinos from all over the globe at the forefront. Aside from presenting users real-time earning opportunities as a live streamer, chances to win cash in various game shows, and engagement in campaigns, kumu also fosters communities that ignite relevant discussions among Filipinos.
Be part of the Kumunity now and download the app for free at Google Play or the App Store.
Original post on Adobo Magazine October 23, 2020 — https://www.adobomagazine.com/digital-news/digital-ppl-entertainment-and-kumu-partner-up-for-the-grand-talent-search/