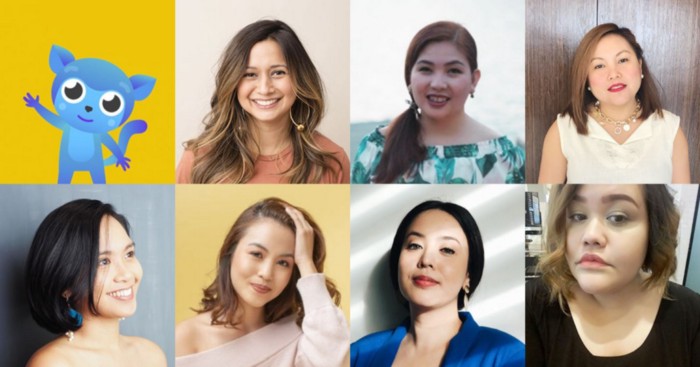 MANILA, PHILIPPINES — For Women's Month, it's only fitting to honor the beautiful and talented women in its executive roster who have helped grow Kumu, the country's fastest-growing social media app in teh country. Kumu provides Filipinos from all over the world an online platform that gives them a safe space and prioritizes their voices.
1. Clare Ros
If there's one woman who knows how branding works, it's Clare (who is also considered by many to be KUMU mascot Karlito's mom). Taking off from a career with Red Antler where she held designer and director of communication roles, Clare's architecture background certainly helped in her ability to grow agencies by cultivating community, establishing social media strategies, and creating brand experiences. Her unique eye for detail and continuing pursuit for new knowledge soon pivoted her toward production design and independent consulting. By 2015, Clare has made her mark as a creative director for multiple startup industries in tech, fashion, wellness, and social impact.
In 2017, this rising star creative pursued her own venture by co-founding KUMU where she continues her passion for building brands and designing products that shape authentic experiences, connect and inspire people, and empower communities. Clare is currently based in New York with her fiance and dog Pippa, but this doesn't stop her from making a difference in KUMU's central office in Manila.
2. Deanne Dalisay
As KUMU's lead in business intelligence and operations, Deanne is a veteran when it comes to keeping up with today's rapid pace of technology. Her expertise dates back to when Viber and Whatsapp were merely startup ideas, particularly in making significant contributions to keep the prominent PinoyExchange message boards alive at the time when Facebook was on the brink of hogging the social media spotlight. During her 14 years of being a digital professional, Deanne has also developed celebrity-branded online games such as Anne Curtis's Anne Galing, ABS-CBN's Ang Probinsyano, Aldub's Kalyeserye, and Voltes V and was one of the founders of Project Athena– a small mentoring community platform for women in Makati.
What keeps Deanne waking up every morning? We're pretty sure the thirst to provide solutions for every pressing tech problem at the office is one of them. And with her innate ability to keep her KUMU team engaged and empowered no matter what challenges lay ahead, she probably can sleep soundly at night as well.
3. Ella Cualbar
Many would arguably say that an HR job is perfect for the ladies because it requires that innate people person quality. If that's true, KUMU hired the right person in Ella and got way more than they were expecting. As the current boss handling the team's Human Resources and Admin functions, Ella has over 10 years of relative experience under her belt working with companies that provide e-commerce, maritime, and accounting services.
With Ella's leadership skills and vast knowledge of compliance strategies, best practices, employee relations, policy and procedure development, and people management, KUMU is able to come up with relevant developmental training sessions for its employees and a more feasible organizational structure that works wonders for its operations. Needless to say that Ella is definitely the right WOMAN for the job!
4. Michiko Soriano
When it comes to women empowerment, Michiko remains at the forefront of local groups despite her relatively young age. From her advocacies with the Morena Movement, a community that highlights and empowers all women of every color, to being one of the founding members of Girls Got Game, a non-profit organization that aims to empower women through sports, Michiko embodies the typical power woman that today's young girls will surely look up to as their perfect role model. Prior to assuming her KUMU post as Vice President of Brand and Strategic Partnerships, Michiko founded an incubation program and co-working space called WeCube which paved the way for her to expand her network in the startup and tech space industries both here and abroad.
Perhaps what keeps Michiko's perfect personal and professional balance is her practice of ThetaHealing which is a spiritual modality designed by American naturopath Vianna Stibal that helps her clear her limiting beliefs. Based on what she has achieved so far, we're certainly tempted to try it out as well!
5. Mica Pineda
Mica is your textbook definition of "it" girl and saying it's easy to be enamored by this brains and beauty powerhouse is an understatement. For KUMU, Mica is Head of Campaigns who is in charge of all those great in-app projects that users avidly join in which makes the whole app experience more exciting.
Wearing her other colorful hats as TV and events host, commercial model, actress, vlogger, and entrepreneur, many might wonder where she finds the time to be a Jane of all trades! Well, as they say, you manage time more efficiently if you know what you're doing. Mica earned her Theater Arts degree from the University of the Philippines and her masters in musical theater from the Royal Central School for Speech and Drama, University of London then taught as an assistant professor in U.P.'s Department of Speech Communication and Theater Arts. Currently, Mica also runs a bed and breakfast cafe in Tagaytay called The Nest and for five years now, serves as a producer for the One Night Stand Cabaret which performs at 12 Monkeys every first Tuesday of the month.
6. Victoria Herrera
KUMU's Director of Communications has been a household name over the years when it comes to multimedia. This stunning professional is a writer, brand and content strategist, and entrepreneur with extensive expertise in the development of creative content for TV, radio, print, and diverse digital platforms. Her work has led her to Singapore and Hong Kong where she launched her own consulting company Next Theory in 2015 which focuses on helping brands develop their identities through novel marketing strategies. Her current role in KUMU has helped the brand garner traction in user engagement and media pickups catapulting it to become one of the most downloadable apps in the Philippines.
As if those are not enough to impress you, Victoria also takes on the role of social influencer and co-founder of She Talks Asia, an all-female media and retail organization that curates conferences that focus on women's empowerment. At this point, we're pretty sure that when Victoria talks, everyone listens.
7. Steffanie Lyn Smetham
Many say that teachers are natural-born marketers with how they use techniques in continual improvement and better communication to connect with their audiences which are the students. For Steffanie, who is currently managing Kumu's marketing, having a teaching degree from Lewisham College in the UK certainly helped in how she made her mark as a professional marketer upon returning to the country. But there's a lot more we can learn from this no-nonsense and committed lady.
Prior to taking on the world of marketing by storm, Steffanie taught refugees in London's Entry to Employment Programme, owned a call-center called e-Leverage, finished an entrepreneurial course at the University of Maryland University College, played in a goth band, and was a Worship Leader for the Cornerstone Christian Church. Her driven nature eventually landed her significant roles as a marketing expert for several local and international companies after her teaching career and there's no doubt her marketing leadership at KUMU makes her feel right at home.
It's a fact that strong women like these KUMU ladies who are all beautiful inside and out are out to save the world. In this age of social media, gone are the times when Mad Men dominated the bigger desks. In their place are more woke women who are out to straighten out most people's mistaken perspectives about how things should work by sheer action and passion. So to women everywhere, cheers to knowing you, being with you, and raising you!
KUMU is a powerful social media platform that brings the voices of Filipinos from all over the globe at the forefront. Aside from presenting users real-time earning opportunities as a live streamer, chances to win cash in various game shows, and engagement in campaigns, KUMU also fosters communities that ignite relevant discussions among Filipinos.
Be part of the Kumunity now and download the app for free at Google Play or the App Store.
Original post on Adobo Magazine on March 27, 2020 — https://www.adobomagazine.com/digital-news/digital-meet-the-multi-faceted-female-executives-behind-the-kumu-livestreamin/