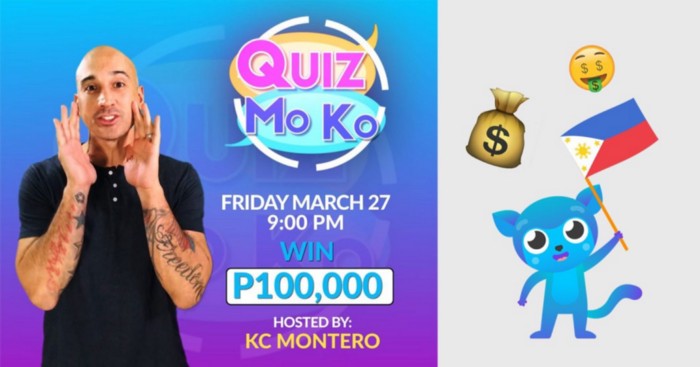 MANILA, PHILIPPINES — With the enhanced community quarantine (ECQ) in place, most Pinoys are told to stay at home and flatten the curve. For the KUMU team who are responsible for the country's fastest-growing social media app, efforts to continue delivering original Filipino content and shows online by working remotely is an ingenious way to provide Filipinos at home an easy-access alternative where they can still be entertained, earn money, or win some cash.
While other studios have halted production, Kumu continues to keep programming alive through remote work or by and setting up home- at- home studios. Of course, a big thanks goes out to the tireless individuals who remain instrumental in keeping KUMU active online amid the ECQ including content creator and host Carla Cab, digital producer and former GMA staffer Elai Tabilog, and production tech director Keith Arao among others, who are all proof that productivity shouldn't stop at home.
Kumu's flagship show Quiz Mo Ko! is streamed from host KC Montero's home set-up with the production team working remotely to ensure that programming runs smoothly. This March 27 at 9 pm, users can earn big by joining one of KUMU's flagship game shows Quiz Mo Ko! which is set to give away Php100,000 in cash. Simply by answering 10 trivia questions correctly, users can stand the chance to win the instant cash right in the comfort of their homes.
Aside from offering its users access to hundreds of entertaining and original Filipino content, fun campaigns, Kumunities, and interactive game shows, KUMU also encourages its users to try their luck as live streamers and show off their skills and talents to earn money via virtual gifting.
KUMU also continues to feature other interactive game shows including Pera O Bayong, Munch Time, Beki Quiz, Kumunity Face-Off, and May Tama Ka where users can enjoy the app and win prizes while keeping themselves at home. Despite the current difficulties facing every Filipino these days, KUMU finds ways to keep its users informed and entertained.
KUMU is a powerful social media platform that brings the voices of Filipinos from all over the globe at the forefront. Aside from presenting users real-time earning opportunities as a live streamer, chances to win cash in various game shows, and engagement in campaigns, KUMU also fosters communities that ignite relevant discussions among Filipinos.
Be part of the Kumunity now and download the app for free at Google Play or the App Store.
Original post on Manila Standard on March 23, 2020 — https://www.adobomagazine.com/digital-news/digital-kumu-keeps-in-app-quiz-shows-up-and-running-to-give-away-php-100k-cash-on-friday-at-flagship-show-quiz-mo-ko/