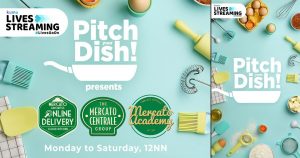 MANILA, Philippines– In the aim to help more Filipinos continue pushing forward, Pinoy social media platform KUMU takes on a campaign that aims to jumpstart lives in the new normal by looking into the many opportunities that the platform has the potential to fulfill. One of these opportunities happens via their new initiative, KUMU Lives Streaming #LivesGoOn.
The good, better, and best in Mercato e-orders
The KUMU team is inspired to help more Pinoys, from students to business owners, find more opportunities via specific shows that reach the right and much wider audience. And if there's one thing that many foodies miss during the crisis, it's the Mercato experience of having food cooked and served fresh hot off the grill.
To extend this unique culinary experience during the new normal, Mercato has launched Pitch Your Dish on KUMU. Hosted by none other than Mercato Centrale co-founder and award-winning TV and events host RJ Ledesma together with his fellow Mercato superstars Vanessa Pastor-Ledesma, James Paulo Pelagio, and Alek Dava from Monday to Saturday, 12 NN.
Pitch Your Dish features regular vendors from the top food night market and small food business incubator in the country. Also featured are more up-and-coming and home-based vendors who'll be cooking your favorite dishes via livestream.
Apart from that, Kumunizens can easily make e-orders with just one click via the platform—helping small food businesses weather the current crisis. KUMU's Pitch Your Dish encourages food sellers from Mercato Centrale to live stream via KUMU and showcase their featured unique and 'delish' dishes for more online orders.
The live streams also give Kumunizens a chance to gather some cooking tips from these culinary experts just by watching the show and e-order at will when their tummy begins to crave and growl! The initiative is in partnership with the Mercato Centrale Group, the Mercato Academy, and Mercato Favorites Online Delivery Cloud Kitchen.
To manage customer expectations and due to the challenges of the current community quarantine guidelines, all orders will be delivered within two days after receipt of the order.
Interested foodies can follow @MercatoCentrale on KUMU while aspiring food vendors can feature their dishes by inquiring here.
Original post on adobo magazine August 19, 2020 —
https://www.adobomagazine.com/digital-news/digital-kumu-and-mercato-centrale-launch-pitch-the-dish-to-showcase-unique-and-delish-dishes-from-the-food-night-market/?fbclid=IwAR1vldBUXWFpnNMEYLi36t1ONP8e2UwmIyk9WB1_DcyPIaf6Hd2wHnMFUS8