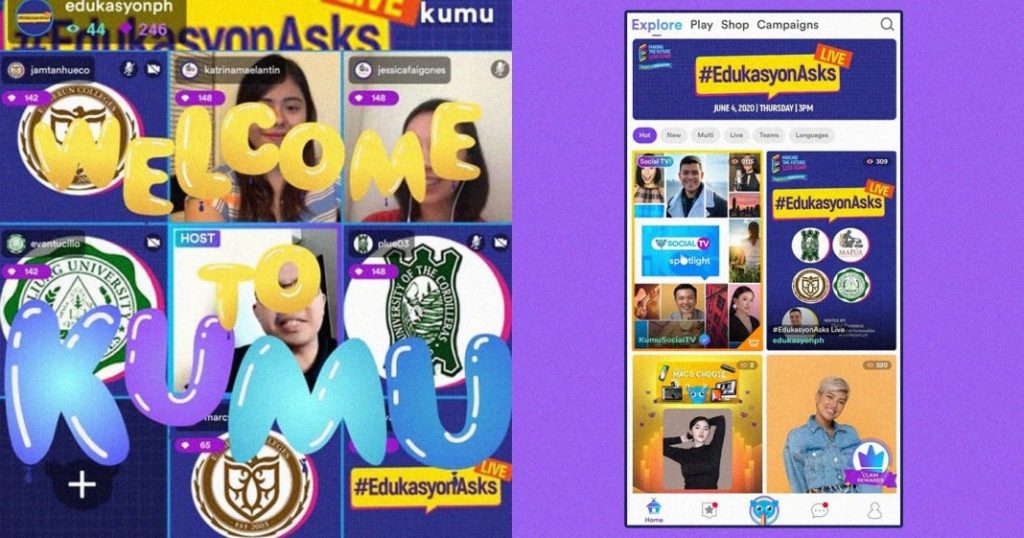 MANILA, PHILIPPINES — Online student portal Edukasyon.ph recently partnered with the KUMU to live stream relevant discussions with various school administrators last June 4. The initiative gave students the latest updates on what's happening in the academic halls and digital space.
Hosted by Hanz Ponceca of Edukasyon.ph's Education Partnerships team, the first #EdukasyonAsks live discussion invited representatives from Mapua Institute of Technology, Baliuag University, University of Cordillera, and Enderun Colleges to shed light on some of the students' most pressing questions.
Among the queries posted by the students who tuned-in during the discussion were the schools' plans on momentarily transitioning from e-education platforms while a general community quarantine is still in place, which forced some schools to temporarily avoid physical attendance for the impending August opening of school year 2020–2021.
Guest schools shared that all of them have already set-up e-education arrangements with their students even before the current crisis.
University of Cordillera continues to offer its learning management systems and online classes and modules for its flagship programs. Baliuag University, the school that offers the most accredited programs in the country, likewise reiterated that while their e-education platform has been in place for years already, essential adjustments to address the needs of the students and considerations of their situations are currently being undertaken by school officials.
Meanwhile, the country's foremost engineering and technological school, Mapua Institute of Technology shared its shift to a fully online platform, highlighting improvements on their learning delivery via synchronous live and interactive sessions for students, and asynchronous sessions that let students answer assignments at their own pace.
Lastly, Enderun College, which offers industry-specific programs with intensive internship placements, said it was surprised by the level of student engagement in their online platform. So far, the college has delivered over 1,000 live stream sessions with 2,000 assignments and was able to continue the very approachable community they have long-established even online.
#EdukasyonAsks on KUMU aims to provide students a way to air their concerns through one collective voice addressing school authorities and administrators while learning about available courses and recent developments in some of the country's premier schools.
Stay tuned on KUMU for more upcoming live stream discussions
Original post on Adobo Magazine on June 9, 2020 — https://www.adobomagazine.com/philippine-news/digital-kumu-and-edukasyon-ph-launches-live-discussions-with-schools-around-the-philippines/?fbclid=IwAR3FUzkdjiBxlk-pLe9QJCW_Y8cSYJqXEBEQf9qk_vtp_tNjxcvYP1_3YIM