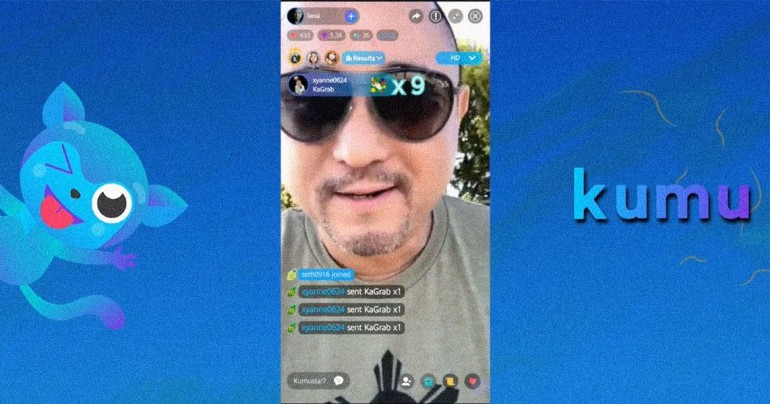 Through the years, many talented Filipinos have made big names for themselves all over the world. Over in Hawaii, where more than a quarter of the island comprises individuals of Filipino descent, several Pinoy talents are getting their voices heard on local shores through the mobile app KUMU.
If there's one app that truly captures the spirit of Filipinos, KUMU is on top of the list with its unique KUMUNITY feature that connects Pinoys worldwide. Users who have seen live streams of these Filipino-Hawaiian talents via the app can't help but be proud as they greet Pinoy users 'aloha' and rediscover their roots.
Most of us already know Ciana Pelekai who got her first shot to fame on America's Got Talent Seasons 4 and 8 before landing a deal with Sony Music. Ciana is currently in Las Vegas for more entertainment projects. "I'm from Oahu's Westside, Honolulu streaming live from Vegas," Ciana told over 11,000 KUMU users tuned in as the singer took in some requests which included her original song "Bluff" along with covers from Bruno Mars, Calum Scott, TLC, Rihanna, among others.
Another Filipino who is making a name for himself in Hawaii's entertainment and lifestyle circuits is Lanai Tabura, who hosts a television cooking show called Cooking Hawaiian Style (aired locally on the Lifestyle channel and MyxTV). Last year, Lanai earned an Emmy Award together with Redefined Media co-owner Andrew Tran for their program Ramen Yokocho. A jack of all trades, Lanai, also moonlighted as a DJ, comedian, actor, and entrepreneur over the years in a broadcasting career that started when he was just six.
Lanai recently said hello to his fellow Filipinos via KUMU together with island Reggae band Kolohe Kai lead singer Roman de Peralta. Roman is slated to perform in the country soon after touring around the world with such hits as "Ehu Girl", "Cool Down", "He'e Roa" and more.
Both Filipinos and Hawaiians certainly know how to share their love for music as evident by how singer Glenn Awong of reggae band Maoli captivated his KUMU followers with a cover of Alicia Keys "If I Ain't Got You". Formed in 2007, Maoli broke into the Hawaiian entertainment scene with hits like "No One", "Write Me A Letter" and "So Incredible" from their debut album "Groovin". After 12 more releases, Maoli has cemented their spot as one of the top reggae bands on the island.
More Filipino-Hawaiian talents have taken to the KUMU platform to share their geniuses and reconnect with their Pinoy heritage. Baba B is another artist who sends his 'mahalo' to Filipinos via the app. Baba B is known for his signature Hawaiian beats, releasing hits such as "I Just Wanna Be Loved", Big Boy In Love" and "Squeeze Me, Tease Me" among others.
As more world-class Filipino talents are discovering the live stream capabilities of KUMU that prioritizes the unique Filipino voice, app users continue to discover more exciting interactive features within the versatile app including live game shows such as Quiz Mo Ko, Sing Tanong, The Lyric Show, proving its reputation as the future of media for Pinoy communities around the world.
KUMU is available for free download at Google Play and the App Store.
Original post on Adobo Magazine on October 8, 2019 — https://www.adobomagazine.com/digital-news/digital-filipino-hawaiian-celebrities-are-making-new-connections-in-the-philippines-via-mobile-app-kumu/