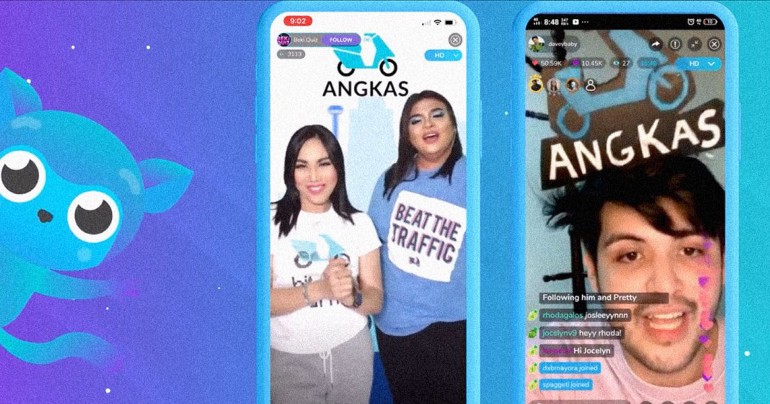 MANILA, PHILIPPINES — There is no denying that motorbike ride-hailing app ANGKAS has helped thousands of commuters ease their way through traffic at faster times to their destinations. However, despite the company's target of 99.7% safety rate for passengers, many commuters are still thinking twice about hitching a ride from ANGKAS. This is where the country's fastest growing social media app KUMU comes in.
Seeing the need to educate commuters on how important safety really is to the ANGKAS team, KUMU utilized its livestreaming features to show netizens some basic steps on riding public motorcycle taxis properly. These included wearing helmets correctly and how to hold on to the rider without being awkward about it.
With 16 KUMU livestreamers agreeing to the challenge and trying out the ride-hailing app to report their ANGKAS experience (some even wore Superman costumes and gowns to reiterate how safe and convenient the ride is regardless of what you're wearing), the live case study was also channeled on two KUMU game shows for wider mileage.
All 16 livestreamers reported their respective experiences before and after the rides with everyone agreeing how ANGKAS cuts down travel time, can be a bit adventurous, and how it is totally safe amidst the regular (and hellish) Manila traffic.
KUMU users also tuned in for an interactive experience while participating on the game shows which resulted in the fastest depletion of voucher codes with two gameshows and the livestreamer buzz that made the social experiment a success.
As the country's Land Transportation and Traffic Code is currently being reviewed by lawmakers, ANGKAS continues its efforts to achieve a 99.7% safety rate by providing riders proper trainings and disseminating safety information to the public. In this particular case study, ANGKAS hailed KUMU for an important ride to drive their safety messages across effectively.
KUMU is a powerful social media platform that brings the voices of the FIlipino from all over the globe at the forefront. Aside from presenting users with earning opportunities as a livestreamer, chances to win cash in various game shows, and engagement in campaigns for prizes, KUMU also fosters communities that ignite relevant discussions among FIlipinos.
Be part of the Kumunity now and download the app for free at Google Play or the App Store.
Original post on Adobo Magazine on February 18, 2020 — https://www.adobomagazine.com/press-release/digital-angkas-shows-off-its-99-7-safety-rate-for-passengers-in-real-time-with-16-livestreamers-on-kumu/