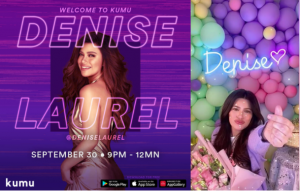 Nationwide, students have been instructed to learn from home. Unfortunately, there are still many who do not have the means to continue their education.
Denise Laurel is helping these children by organizing her birthday fundraiser on kumu, proving that supporting others is still possible despite the current Covid-19 situation.
"One of the few great things in this new normal is you don't have to leave home to help. Education is really expensive during these times so I wanted to raise funds for [students] who need it," Denise excitedly announced last week, adding that joining her are her fellow stars in a lively night of fun, music, and friendship.
"I am so blessed to know such amazing people who were down to support this project," she added.
Proceeds from the live event,  amounting to P100,000.00, will be donated to underprivileged scholars of the Shining Light Foundation, a non-profit organization that provides financial assistance to children for their academic needs.
"Hopefully we raise enough to buy laptops for them and find ways to arm them for the future," said Denise, who also thanked kumu Vice President of Content KC Montero and Chief of Community James Rumohr for bringing the idea into reality, as well as the whole Kumunity for their support of the initiative.

Among those in attendance were singers and songwriters JayR, Mica Javier, Kris Lawrence, Sam Concepcion, RJ de la Fuente, Jed Madella, Eric Nicholas, Markki Stroem, Reneé Dominique, and Nyoy Volante.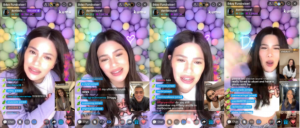 Also present to give back to the community were actors Yassi Pressman, Jake Cuenca, Julia Baretto, Ria Atayde, Cheska Litton, and Cindy Kurleto.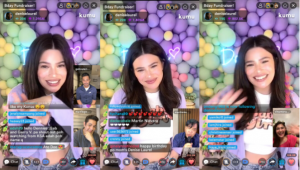 Meanwhile, father-and-son duo Gary and Gab Valenciano reminisced with Denise, while Vina Morales and Martin Nievera applauded Denise's efforts to share her special day with others.
Together, they encouraged users to donate and shared words of encouragement to help them through the lockdown.
Denise mused that it was a relief to get everyone together – virtually, that is – until after the pandemic passes: "I would like to see you all in person, but this mini-reunion would do for now.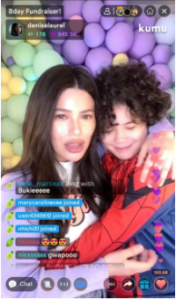 Bukie, Denise's 9-year-old son, sang Cookie Cat from Steven Universe as a birthday gift to her mom.
"This was the best birthday ever!" shared Denise. "Thank you, kumu Philippines  for helping me bring this together! As well as all the stars that jumped on board to do this with me!"
"It's a great positive place to be, where everybody is down to share their talents and down to help one another—I am proud to be a part of it. Thank you, everyone!" said Denise.
kumu is the fastest-growing Filipino social networking app where users can support good causes and connect with their friends and family around the world.
Download the kumu app and follow Denise Laurel (@deniselaurel) https://app.kumu.ph/deniselaurel to watch her other videos via live stream on kumu.
kumu is a powerful social media platform that brings the voices of Filipinos from all over the globe at the forefront. Aside from presenting users real-time earning opportunities as a live streamer, chances to win cash in various game shows, and engagement in campaigns, kumu also fosters communities that ignite relevant discussions among Filipinos.
Be part of the Kumunity now and download the app for free at Google Play or the App Store.
Original post on When in Manila October 8, 2020 — https://www.wheninmanila.com/denise-laurel-celebrated-her-birthday-on-this-livestreaming-app-and-raised-over-php-100k-for-scholars/