Feeling festive for June? We get you, it's a month with plenty to celebrate, from Independence day, to Father's Day and Pride Month. So we're kicking of the colorful month with Shopkumu's biggest sale yet! The Shopkumu Freedom sale is set for June 6 (that's 6.6 to you!), a shopping marathon from morning till night. Consider this as advanced notice, because there's plenty perks, surprises and giveaways in store. 
View this post on Instagram
We all know that Shopkumu is constantly innovating the potentials of live selling, and this upcoming sale is another flex in its creative efforts. "At kumu, we provide our users with an extremely unique and engaging digital shopping experience.", says Sambie Que Rodriguez, Senior VP of Shopkumu. "Through our community of live-streamers and authentic approach, our buyers can be assured that trust and transparency is at the heart of our retail services. We aim to reignite the fun, and social aspect of the retail experience through intentional and entertaining retail content and digital concepts."
Playing around with the interactive elements of live selling, Shopkumu is bringing back a lot of its user-favorite activities. These include some special streamer focus activations, where exclusive discount codes may be revealed, surprise coin giveaways in selected channels, special deals and hot discounts. Last, but certainly not the least, the Shopkumu Freedom Sale "6 peso deals" is a thrilling scavenger hunt for bargain-loving Kumunizens; the catch is, these deals can be anything, and found in any of the Shopkumu Freedom Sale streamers.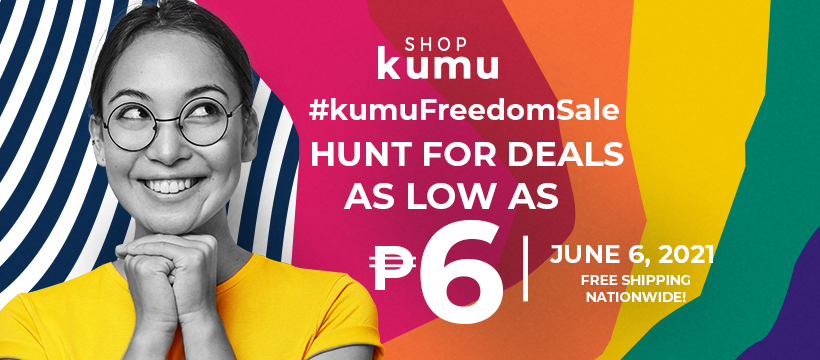 More importantly, the Shopkumu Freedom Sale is part of kumu's overall efforts to uplift the many causes for the month of June. Sambie further explains, "In light of Pride Month, and in celebration of all things kumu, #kumufreedomsale is an ode to what kumu stands for: acceptance, authenticity, and the celebration of our freedom of expression. It's our freedom to be whoever we would like to be. This is at the heart of what we do at kumu, and I'am extremely proud to be extending this experience in our retail business."
So, whatever your reason to celebrate for the month of June, rest assured you can find something to indulge at Shopkumu's Freedom Sale on June 6. Be sure to check and hop around the Shopkumu market to find your perfect deals! 
To keep up with all the latest updates and finds, follow the handle @shopkumuph on Instagram, and Facebook. Plus, check back at the kumu blog for more exciting news about special deals, discounts and promos on kumu. 
Don't have the kumu app yet? It's easy! Download the app at Google Play or the App Store, and join the Kumunity!