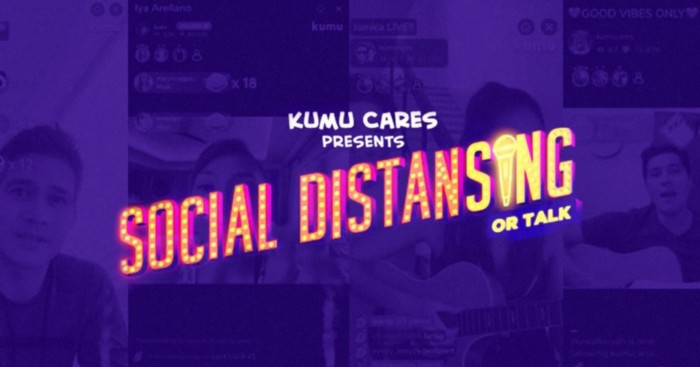 MANILA, PHILIPPINES — A number of Pinoy top celebrities and livestreamers came together via the fastest-growing social media app in the country KUMU, to share their talents and thoughts, on the current COVID-19 situation affecting the world, and raised over Php800,000 in proceeds for the benefit of Filipinos who were adversely affected by the ensuing enhanced community quarantine.
Dubbed Social DistanSING, online performances and discussions were held from March 26 to April 8 featuring KUMU's celebrity friends who encouraged the app's users to stay safe at home and do what they can to help others in need.
"The spirit of bayanihan is strong as everyone wanted to help in their own little way and we were able to do that through Social DistanSING — all without having to leave our homes," said KUMU Head of Campaigns Mica Pineda who together with the app's VP for Content KC Montero hosted the online musicfest. "I see it as a milestone for KUMU in how we were able to provide help during tough times. The app now goes beyond just entertainment. To the artists who participated, the gifters who supported us, our heartfelt gratitude for making a huge difference," she added.
Montero on the other hand was amazed at how Filipinos from all over the world rose to the occasion via KUMU. "It's very inspiring to see people from all walks of life show acts of selflessness and share what they can at a time when everyone in the world is experiencing some sort of difficulty," he said. "I think it really made us re-evaluate ourselves a bit at KUMU as we've been known for being a fun and entertaining app. But seeing how Pinoys are so willing to help their fellow Filipinos via KUMU, we're definitely going to be heading towards more charity initiatives going forward," he stated while emphasizing how KUMU enables Filipinos from around the world with an easier way to donate and help their kababayans. "Users can simply download and install KUMU and donate any amount ranging from 25 centavos to Php25,000," he added.
The entire proceeds raised from Social DistanSING was coursed through the People for Accountable Governance and Sustainable Action (PAGASA), a new civil society organization that responds to Filipinos in need during urgent times.
In accordance with the government's COVID-19 response, an enhanced community quarantine was implemented in the country's affected regions on March 16, leaving a number of Filipinos with 'no work, no pay' standings struggling with daily living.
Among the celebrities who participated in Social DistanSING were Cai Cortes, Louise delos Reyes, MNL 48's Jan Elaurza, Thea Itona, Miho Hoshino, Tin Coloso, Sheki Arzaga, Yzabel Divinagracia, and Grace Buenaventura, star couple Aubrey Miles and Troy Montero, Abby Asistio, Josh Colet, Pappel, Denise Laurel, Mark Bautista, Kris Lawrence, Tom Rodriguez, Jerald Napoles and Kim Molina, Jake Cuenca, Arjo and Ria Atayde, Derek Ramsey and Andrea Torres, Dingdong Dantes, Marc Abaya, Rovilson Fernandez, Katrina Halili, Tony Bueno, Kean Cipriano, Claire Ruiz, Billy Crawford and Coleen Garcia, Mikee Misalucha, EJ De Perio, Rocco Nacino, Kakai Bautista, Lance Busa, Jay Kent, Hannah Bacani, Kylie Versoza, Maxene Magalona, Niño Alejandro, Donita Rose, Nyoy Volante, Jay-R and Mica Javier, Hannah Olives, Gian Magdangal, Christian Bautista, Eugene Layug, Martin Riggs, Glaiza de Castro, Annie Lux, Polly Cabrera, Roxanne Barcelo, Iya Villania, Carla Humphries, Piolo Pascual, Lara Maigue, Ira Cruz and Nicole Asensio, DJ Mod, Janno Gibbs, Nathan & Mercury, Aicelle Santos, Kyla, Morissette, and Quest.
KUMU is a powerful social media platform that brings the voices of Filipinos from all over the globe at the forefront. Aside from presenting users real-time earning opportunities as a live streamer, chances to win cash in various game shows, and engagement in campaigns, KUMU also fosters communities that ignite relevant discussions among Filipinos.
Be part of the Kumunity now and download the app for free at Google Play or the App Store.
Original post on Adobo Magazine on April 22, 2020 — https://www.adobomagazine.com/digital-news/brand-business-kumus-social-distansing-online-musicfest-raises-php800k-for-covid-19-ecq-beneficiaries/?fbclid=IwAR07bk7EtOJlbDmJg7-qAXV07R7fVr5E3tfGW6nxnTPQ94khg6bmmRS_2lo