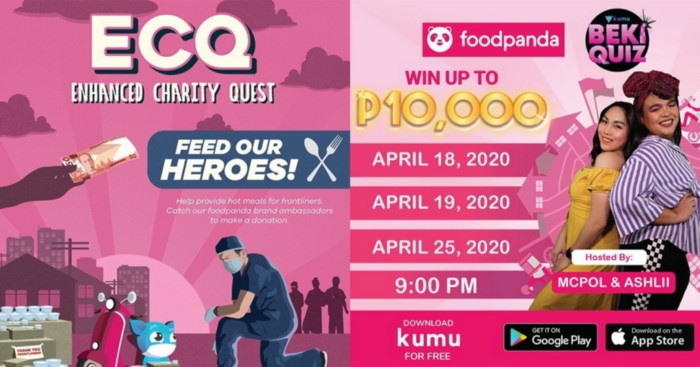 MANILA, PHILIPPINES — In the spirit of Bayanihan and as various cities implement the enhanced community quarantine in their respective jurisdictions, the country's fastest-growing social media app KUMU joins forces with leading food delivery app Foodpanda once again by encouraging its users to stay home and enjoy more food at lower costs.
Php 100,000 worth of voucher codes for new Foodpanda app users in Metro Manila, North and South Luzon, Cebu, and Davao are up for grabs via virtual gifts to Foodpanda ambassadors live streams, KUMU game shows, and e-commerce.
Be KUMU's 'home buddies' and get to enjoy Foodpanda vouchers
Kumunizens can get the chance to win Foodpanda vouchers by simply sending as many virtual gifts as they can to Foodpanda brand ambassadors who will be live streaming over the app from 8 pm to 11:30 pm until April 30. Each time they give virtual gifts to the Foodpanda livestreamers, users will be receiving a 'thank you' email and a unique voucher code for a chance to win P100 discounts and free deliveries on Foodpanda orders from participating restaurants. KUMU users are also encouraged to provide their email addresses in their profiles to receive the voucher codes. Voucher codes can only be used once, and are valid for new Foodpanda users only until May 15.
"We know that people are trapped in their homes during this whole COVID-19 situation so our partnership with Foodpanda helps bring foodies' favorites to their homes safely and more conveniently," says Gian Gloria, Kumu Sales Account Manager. "We believe that this initiative can help flatten the curve while also giving Foodpanda frontliners the opportunity to continue earning despite these difficult times," she added.
Users can also win voucher codes via live game shows Beki Quiz, and Quiz Mo Ko! To be posted after every episode date for the duration of the promo period.
Partnership with PAGASA
Meanwhile, the partnership also aims to help more of the country's medical frontliners who are working in smaller hospitals that get minimal government provisions during the enhanced community quarantine.
With the help of PAGASA — a civil society organization that responds to the Filipino's need during urgent times, KUMU and Foodpanda will be organizing a fundraising effort via gift cards donations aptly called Enhanced Charity Quest (ECQ), which users can purchase via the app.
"In this overwhelming war with our invisible enemy, our health workers are our modern day superheroes as they put their lives at risk every single day just to save thousands of lives," says Melissa Tuason, Head of Business Development — Sales. "We believe that this partnership with PAGASA will be our own little way of helping our hospital workers, especially the ones from the smaller and underserved hospitals, to prevent them from being overworked and hungry."
Users who wish to extend a helping hand to our frontliners may get the ECQ gift cards at P50 through KUMU's e-commerce in-app feature. The first wave of gift card donations has already started last week through the efforts of PAGASA who will be providing hot meals for our hardworking frontliners as KUMU encourages more of its users to donate ECQ gift cards and help provide for our heroes who are risking their lives to save people.
KUMU is a powerful social media platform that brings the voices of Filipinos from all over the globe at the forefront. Aside from presenting users real-time earning opportunities as a live streamer, chances to win cash in various game shows, and engagement in campaigns, KUMU also fosters communities that ignite relevant discussions among Filipinos.
Be part of the Kumunity now and download the app for free at Google Play or the App Store.
Original post on Adobo Magazine on April 23, 2020 — https://www.adobomagazine.com/digital-news/brand-business-kumu-and-foodpanda-ask-users-to-stay-at-home-enjoy-food-and-help-our-frontliners/