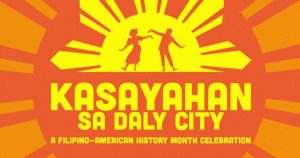 MANILA, PHILIPPINES – Since it first launched in 2018 as the premier Pinoy-centric social media app available for download, kumu has been able to bridge wide gaps between Filipinos at home and from all over the world. And with the recent partnership with the City of Daly's Department of Library and Recreation Services in the San Francisco Bay Area, USA for its KASAYAHAN SA DALY CITY (@kasayahansadalycity) e-event which will be live streamed on kumu this October 11, starting at 4AM Manila time, more Pinoys can now experience and see the marvelous offerings the city has to offer even while in quarantine.
"We are absolutely excited about the partnership with kumu and The Filipino Channel (TFC)," according to Senior Recreation Services Supervisor Romeo Benson. "Not only do we get to go global, but now we will be able to interact with our Pinoy viewers and celebrate Filipino-American History Month," he added.
The KASAYAHAN SA DALY CITY live stream is certainly one out-of-the-box idea from kumu and the department in the pursuit to build a global following for the city's performers and demonstrators especially during these unique times. For one, it gives Pinoys at home a glimpse of the life and successes of our countrymen in Daly City, thriving through the integration of both Filipino and American cultures that kumu users will be able to appreciate. From food to music to cultural teachings, the event promises to wow Pinoy audiences at home with a smorgasbord of interesting novelties.
Citing a few examples, Benson mentioned a few Pinoy prime movers in the city who will be featured in the KASAYAHAN SA DALY CITY e-event including Eskabo Daan who serves as a Filipino Martial Arts instructor in multiple cities in the Bay Area, the Kariktan Dance Company which continues to teach and demonstrate dances at a variety of special events, and Bayani Arts, an outfit that teaches Pinoys in the States the history of the Philippines through arts, clothes, books, among many others.
"Hopefully in the future, even if the event physically happens, I'm hoping we can continue our partnership with kumu," said Benson. "It would be pretty awesome for the kumunity to see what the event is all about– from the vendors, information booths, food trucks, a family fun zone, arts and crafts, a beer garden and most importantly our crowd," he added invitingly.
Aside from the main event, the department usually holds more pocket events that celebrate the Filipino-American History Month which include arts and crafts, storytelling, demos, and workshops. However, due to the current pandemic, social distancing guidelines and time constraints, the smaller events will not be held this year.
"I'm hoping next year, we can highlight these small events on kumu," Benson shared. "Perhaps next time, we can also incorporate kumu's gaming features and utilize more of kumu's versatility so we can improve on our engagement," he added. And with the expected success of the first KASAYAHAN SA DALY CITY on kumu this year, Pinoys from all over the world can only expect bigger things from the partnership when all the COVID-19 smoke clears up and everything goes back to normal.
Other promising performers and demonstrators who will be gracing the KASAYAHAN SA DALY CITY event are some popular local names such as Melvin Sings!, Jenn Clemena, and Native Elements who all hail from Daly City and South San Francisco; The Company who are considered as one of the best dance crews in California; critically-acclaimed DJ Qbert; and more exclusives including the Lumpia 2 with Vengeance, a film shot in location in Daly City; and popular Filipina vocal group One Vo1ce who are known for their hit single "When You Think About Me" which reached Billboard's Top 100 in 2000.
"We're very thankful for this opportunity to work with TFC and kumu not just at the local scale, but at the global scale," said Benson. "We hope that our event will bring many smiles to our Daly City residents and the many Filipino communities in the Bay Area along with those around the world. Having such an event during this unique time is proof that the show must go on, we can move on and we are moving on," he concluded.
Stay tuned on kumu and know more about the KASAYAHAN SA DALY CITY e-event via the app https://app.kumu.ph/kasayahansadaly, as well as more exciting 4th quarter events and offerings for the kumunity.
kumu is a powerful social media platform that brings the voices of Filipinos from all over the globe at the forefront. Aside from presenting users real-time earning opportunities as a live streamer, chances to win cash in various game shows, and engagement in campaigns, kumu also fosters communities that ignite relevant discussions among Filipinos.
Be part of the kumunity now and download the app for free at Google Play or the App Store.
Original post on Adobo Magazine October 7, 2020 — https://www.adobomagazine.com/digital-news/digital-take-part-in-global-virtual-event-for-pinoys-as-kumu-and-tfc-presents-kasayahan-sa-daly-city/